Romco Group Announces Q1 2022 Trading Update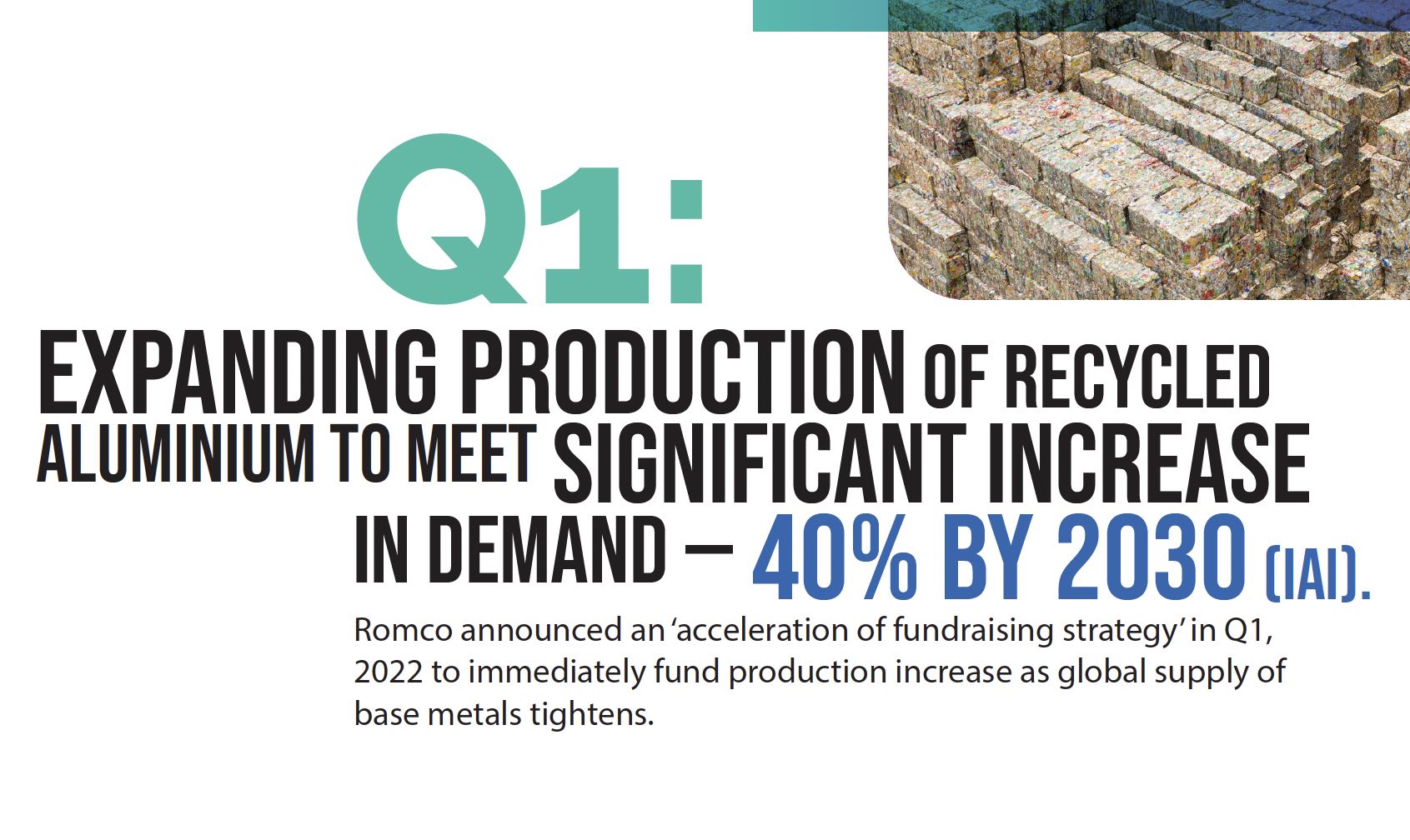 Romco proving strength of model by achieving 7th consecutive quarter of growth, increasing revenue by 108% despite significant market pressures. 
Accelerated fundraising strategy underway as Romco sees increased demand from global supply-chain disruptions and widespread market stresses.
London / Lagos – 14 June 2022 – Romco Group (the "Company"), Romco, an international metals recycler producing clean and sustainable essential metals to decarbonise the global supply chain, today announces financial and operational results for the first quarter of 2022.
With base metals experiencing a major production challenge, inflationary pressures and significant supply-chain disruption, Romco's green production and sustainable growth model is proving to be a credible solution as an operationally and financially robust organisation, announcing revenues of $8.1m and production up 112%.
Romco Group CEO, Raymond Onovwigun, commented: "Base metal stocks are at a 16 year low with international predictions putting growth in demand at 40% by the end of the decade. Romco's continued revenue growth demonstrates that a sustainable and responsible approach to resource production is good for a world and great for business. There is a large and growing market for the high-quality low-carbon metals we produce and Romco is well-placed to capitalise on this.

"The seven consecutive quarters of growth Romco has seen gives the Company and our investors confidence as we expand production and invest in both our operations and our supply chain through the $1m we have deployed in our Small Business Buying Programme."
These results follow the Company's recent Series A fundraise of $6.2m for 3.5% equity, valuing it at $180m. An accelerated fundraising strategy is underway as the Company looks to finalise its options to enable increased production to meet the growing demand from global metal traders and blue-chip car manufacturers.
Q1 2022 Key Highlights:
Combined metals inputs of 4,060 mt* (up 112% Q-o-Q);
Revenue of $8.1 million (up 108% Q-o-Q);
Production of Tense (Mixed Aluminium Castings) of 2,850mt* (78% Q-o-Q);
Production of Tense / High Zn of 125 mt* (up 198% Q-o-Q);
Total Energy Output of 1,502 mWh, versus 29,397 mWh for primary produced equivalent;
Generated CO2 Emissions Savings of 7,972mtCO2 over primary production;
For full quarterly report, please visit: https://romcometals.com/reports/Q12022Report.pdf