COP26 Underway — Finally Putting Methane & Coal On The Agenda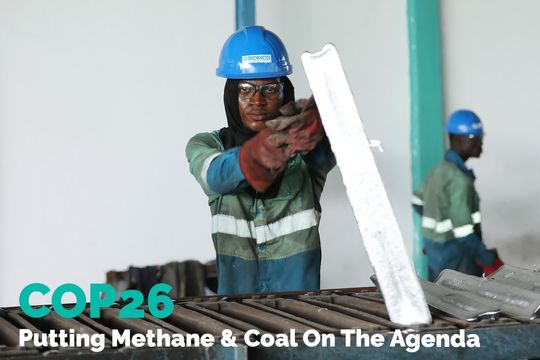 Cop26 commenced Monday, what's it all about?
The UK, together with its partner in Italy, is hosting an event this week many believe to be the world's last best chance to get runaway climate change under control. For nearly three decades the UN has been bringing together almost every country on earth for global climate summits – called COPs – which stands for 'Conference of the Parties'.
Thankfully, in that time climate change has gone from being a fringe issue to a global priority. Through COP26 this year, the UK is working with every nation to reach an agreement on how to tackle climate change. More than 120 world leaders (out of the hoped 190) have arrived in Scotland, together with tens of thousands of negotiators, government representatives, businesses and citizens for twelve days of talks.
COP26 is happening because the world is getting warmer.
This is the annual mean land and ocean temperature above or below average, 1850 to 2020: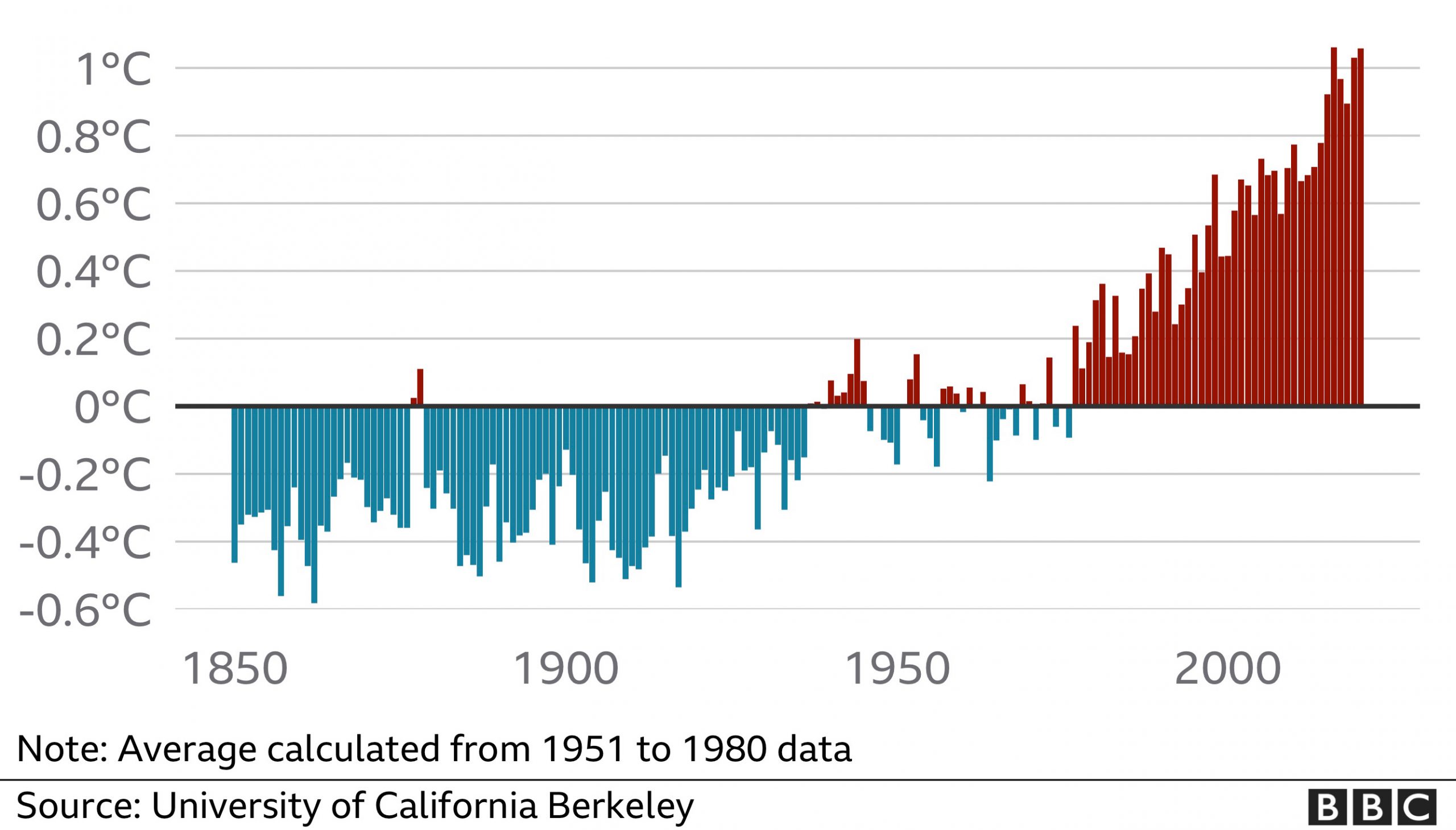 The world is now about 1.2C warmer than it was in the 19th Century – and the amount of CO2 in the atmosphere has risen by 50%. Extreme weather events like heatwaves, floods and forest fires are already becoming more intense.
The 2015 Paris climate conference called for average temperatures to rise by well below 2C, and preferably only 1.5C, when compared to pre-industrial averages.
Temperature rises must slow down if we want to avoid the worst consequences of climate change, scientists say. They say global warming needs to be kept to 1.5C by 2100.
Unless further action is taken, the planet could still warm by more than 2C by the end of this century.
If nothing is done, scientists think global warming could exceed 4C, leading to devastating heatwaves, millions losing their homes to rising sea levels and irreversible loss of plant and animal species.
Projected annual average temperature change relative to 1850 – 1900, at different levels of global warming: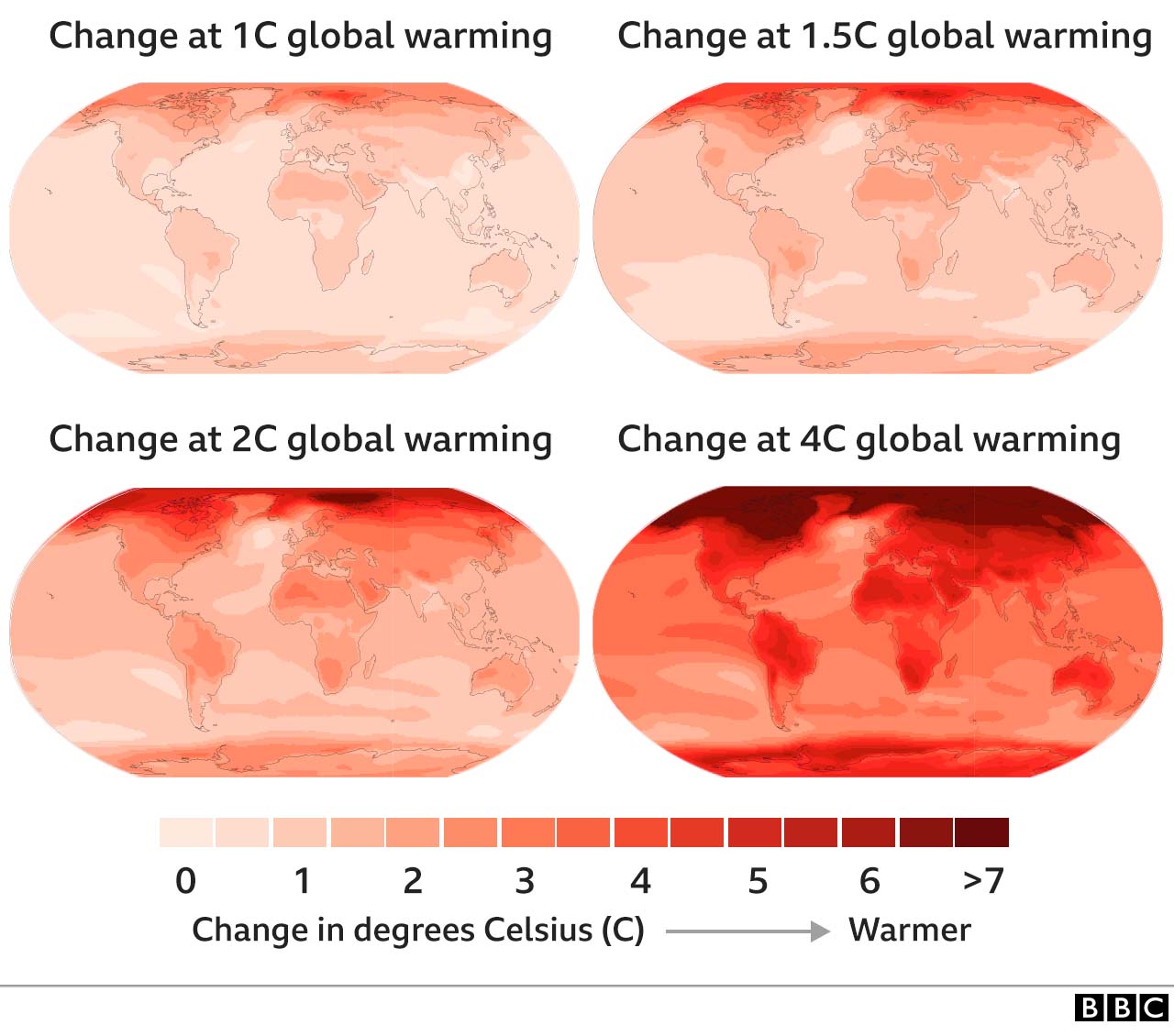 Who has come to COP26 (and who hasn't):
Around 120 leaders have come to the two-day World Leaders' Summit which is being held at the beginning of the two-week Cop26 conference.
President of the USA Joe Biden and Prime Minister Narendra Modi of India have attended.
However, Xi Jinping of China and Vladimir V. Putin of Russia, along with Jair Bolsonaro of Brazil and Recep Tayyip Erdogan of Turkey are among the most notable no-shows.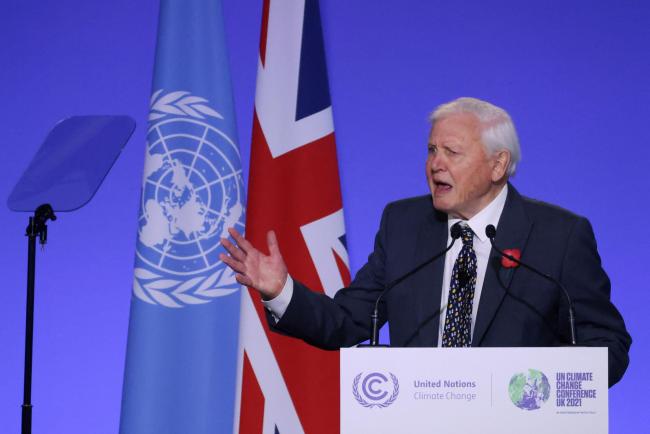 Sir David Attenborough attended, and has urged COP26 climate summit delegates to "turn tragedy into triumph" and tackle climate change:
In an impassioned speech which drew a standing ovation, he said the fate of future generations must give delegates the impetus "to rewrite our story".

The 95-year-old warned that humanity was "already in trouble" because of rising carbon levels in the atmosphere.

"Our burning of fossil fuels, our destruction of nature, our approach to industry, construction and learning, are releasing carbon into the atmosphere at an unprecedented pace and scale," he told the conference. "We are already in trouble."

"If working apart we are a force powerful to destabilise our planet, surely working together we are powerful enough to save it," he said, before concluding, "In my lifetime I've witnessed a terrible decline. In yours, you could and should witness a wonderful recovery."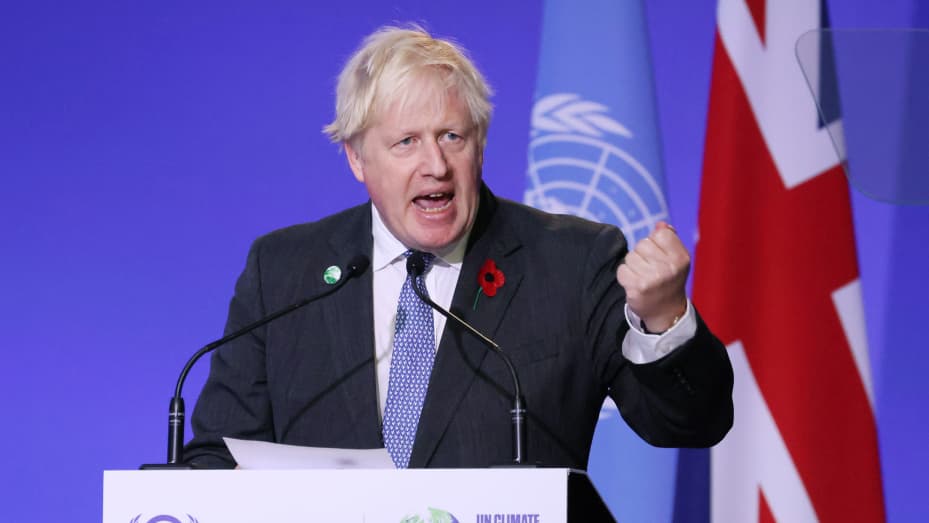 Boris Johnson said it's 'Touch and go' whether COP26 summit will be success.
Boris Johnson has said he is "very worried" over whether the COP26 summit will be a success.

The Prime Minister will welcome more than 120 world leaders to Glasgow for the UN summit from Sunday but admitted it was "touch and go" as to whether key goals would be met.

He said: "We need as many people as possible to go to net zero so that they are not producing too much carbon dioxide by the middle of the century.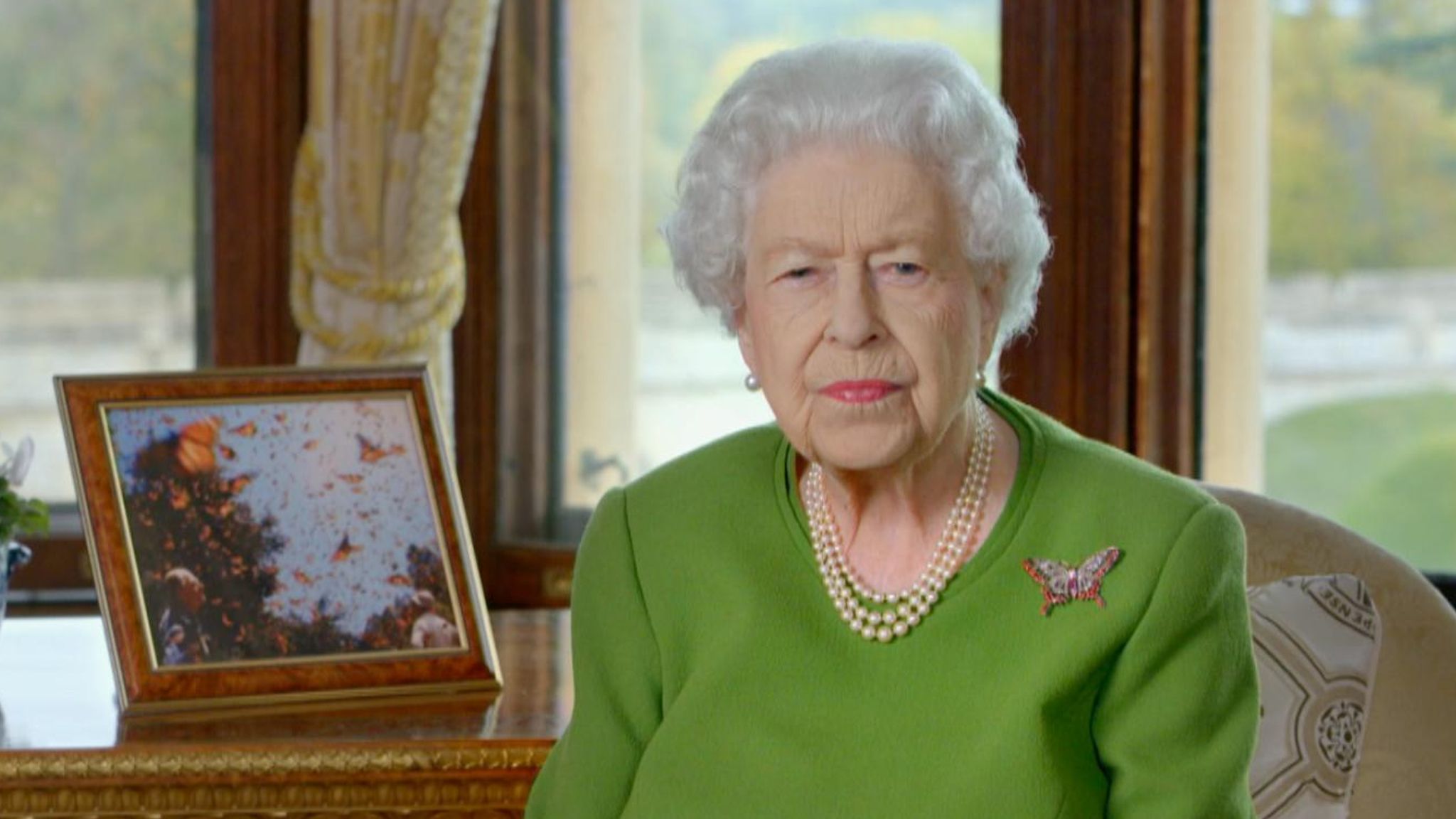 And the Queen tells Cop26: 'Rise above politics, for the sake of our children'
The Queen told world leaders at Cop26 they must act now for the sake of "our children, and our children's children" as she acknowledged that "none of us will live forever".

Her Majesty, 95, spoke warmly of the role that her "dear late husband", the Duke of Edinburgh, played in the campaign against climate change.

She used the video address to make her most significant intervention on the environment to date, urging delegates to "rise above the politics of the moment and achieve true statesmanship" by taking action.

The recording was made at Windsor Castle on Friday afternoon, after the Queen was forced to pull out of a planned appearance at the Glasgow climate conference on doctors' orders, having been advised to rest for two weeks.
Important COP26 commitments so far:
More than 100 world leaders have promised to end and reverse deforestation by 2030, in the COP26 climate summit's first major deal.
Brazil – where stretches of the Amazon rainforest have been cut down – was among the signatories on Tuesday.

The pledge includes almost £14bn ($19.2bn) of public and private funds.

The countries who have signed the pledge – including Canada, Brazil, Russia, China, Indonesia, the Democratic Republic of the Congo, the US and the UK (the full list is here) – cover around 85% of the world's forests.
G20 leaders pledge carbon neutrality 'by or around mid-century'
Leaders at the G20 have agreed on carbon neutrality "by or around mid-century" as the conference came to a close just ahead of the UN's Cop26 summit.

Politicians attending the event in Rome also pledged to end public financing for coal-fired power generation abroad, but they set no target for phasing out domestic coal.
Biden unveils pledge to slash global methane emissions by 30%. US-led alliance includes 90 countries but China, India and Russia have not joined the methane pact
The alliance includes two-thirds of the global economy and half of the top 30 major methane emitter countries. China, India and Russia have not joined the pact known as the Global Methane Pledge.
Methane is now finally on the agenda… Why is it so important and why do we care so much about it at Romco?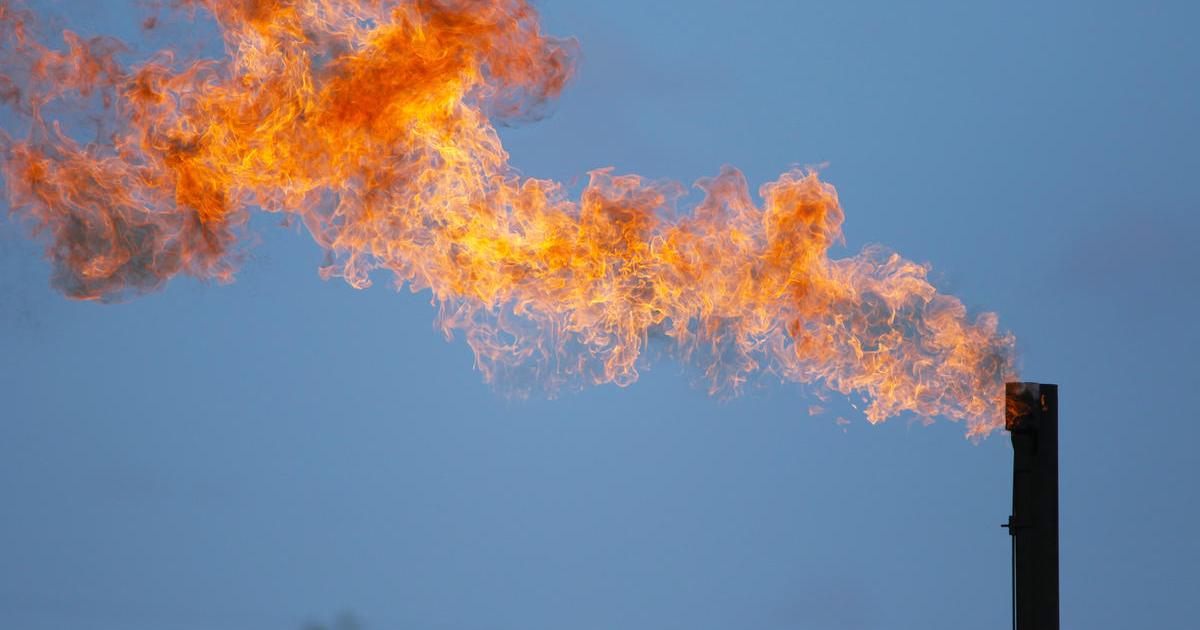 The 20-year global warming potential of methane is 84. That is, over a 20-year period, it traps 84 times more heat per mass unit than carbon dioxide (CO2) and 105 times the effect when accounting for aerosol interactions.
That's a lot.
In the context of methane's relative impact on global warming, it's not talked about nearly enough.
Alarmingly, global methane concentrations rose to the highest value in at least 800,000 years. It also remains in the atmosphere for 12 years.
Methane accounts for about one-third of global warming, according to New McKinsey research, now It's time to talk about it.
A lot of that is because of coal and landfill, something Romco knows a lot about.
Let's start with coal.
For methane, coal mining is a big factor, producing an estimated 10 to 15 percent of anthropogenic methane. The case against coal is probably strongest for companies in China, which account for about 70 percent of CMM emissions and which have invested in more coal gasification for the industrial sector.
What a lot of people don't know is that over 61% of aluminium is made via coal-fired power, and aluminium's electricity mix is actually getting dirtier, not cleaner.
What about Landfill?
Globally, landfills are the third-largest anthropogenic source of methane, accounting for approximately 11 percent of estimated global methane emissions. Figure 1 presents methane emissions from the landfill sector in selected GMI countries.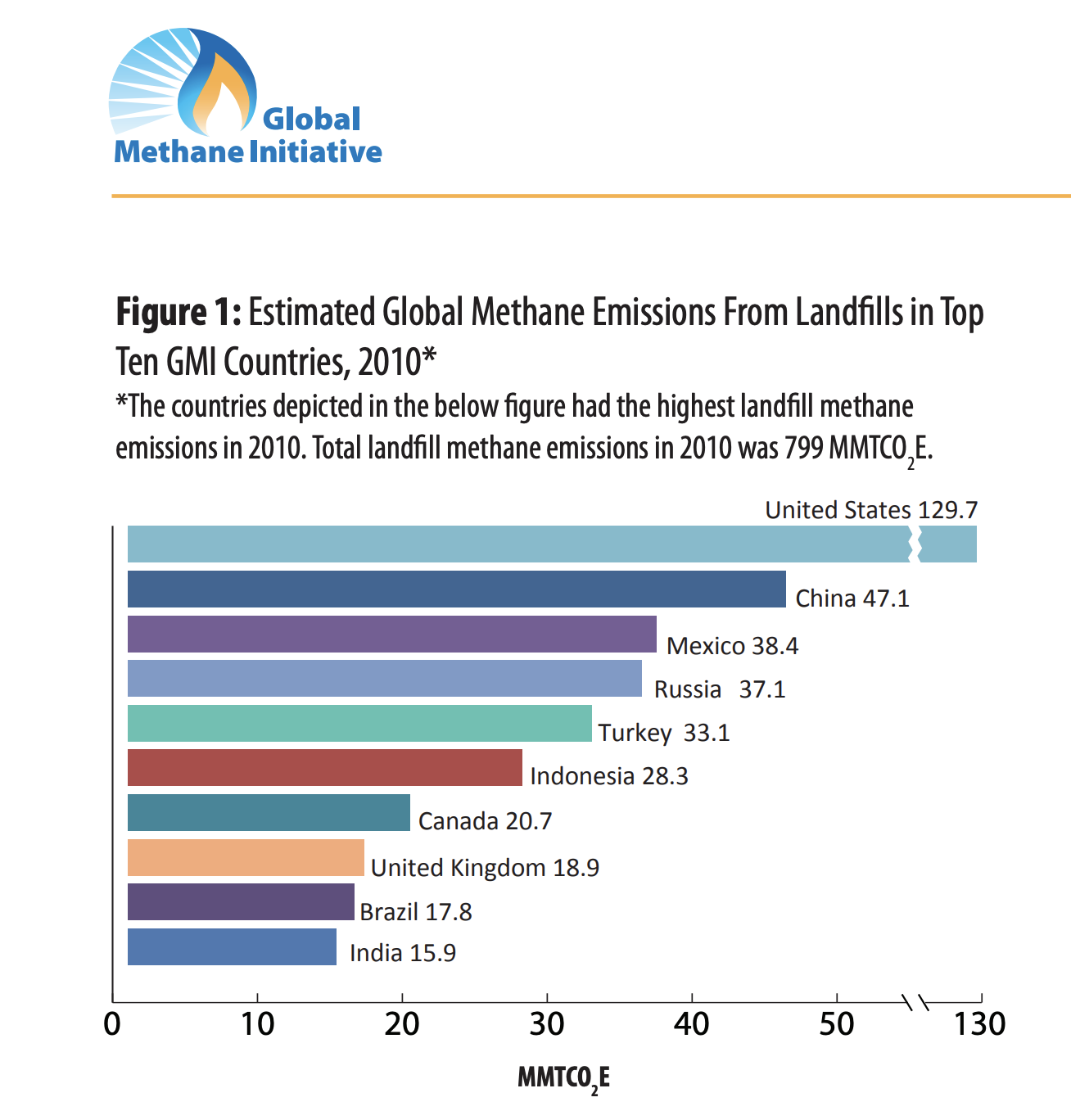 What are Romco committed to doing?
Recycling 1 ton of aluminium uses 95% less power than primary production (Romco currently use CNG – not coal) and clears approximately 7.62 cubic metres of landfill. Romco have cleared over 130,000 cubic metres of landfill since its inception. That's the equivalent of 52 Olympic sized swimming pools no longer trapping methane-producing waste in landfills.
Recycling is one of the most effective ways we can reduce coal-fired power demand and landfill. By proxy, recycling significantly reduces global methane emissions and assists greatly in the effort to manage climate change.
Romco also encourages companies we work with to take action on reducing methane emissions.
Here are three very simple actions companies can take:
Expand monitoring, reporting, and verification. First, there must be a concerted effort to expand monitoring, reporting, and verification. To get there, governments and industries would need to upgrade data collection, moving from estimates to observed measurements. Satellite, drone, and sensor monitoring, the costs of which are falling sharply, would be one way to help achieve this. Currently, methane emissions are reported in tandem with CO2 emissions. That needs to change, with methane described under its own methodology. Better measurement would offer the potential to create incentives for rapid methane reduction across industries. It could also support efforts to develop global tradable goods markets that value the carbon intensity of products along a traceable value chain.
Support sustainable consumption. Stakeholders could develop mechanisms to differentiate assets and score products based on their methane footprints. If every kilogram of rice, million British thermal units (MMBtu) of natural gas, ton of steel, pound of meat, barrel of oil, and ton of coal came with a methane-intensity label, the market signals could support a more orderly decarbonization transition. With this, retailers and consumers could make more informed purchasing decisions, producers could define new foundations for competitive advantage, and investors could better understand portfolio risk.
Increase innovation. Many solutions are sufficiently developed to be effective but are not adopted at scale because of excessive costs or a lack of awareness of available technology. In the oil and gas industry, innovation in methane monitoring—for example, leveraging flyovers and on-ground detection—could help businesses pinpoint leaks and cut mitigation costs. The beef industry is in the early stages of adopting feed additives, genetic breeding, and methane capture. These technologies would benefit from support to move more speedily from lab to field.
The insights here demonstrate that abating methane emissions will be critical to achieving a 1.5°C warming pathway and avoiding the worst effects of climate change. The good news is that there are many practical solutions available. Feed additives for cattle, new rice-farming techniques, advanced approaches to oil and gas leak detection, coal methane capture, and modern water and waste facilities can all be effective. Still, these solutions face implementation challenges.
The priority, therefore, is for action where it is practical. Many of the solutions can be implemented at a relatively low or net-negative cost, and these should be a priority. Where costs are prohibitive, there is a need for coordinated action to create the infrastructure and fiscal conditions that would support further action. Across the board, there is a need for more monitoring, reporting, and verification, more support for consumer choices, and more dedication to funding technical solutions.
Without these efforts, it is likely that current initiatives will fail and the planet will continue on its collision course with an uncertain and dangerous future.
Romco is a supporter of COP26, and dedicated to practical climate change assistance by;
Investing in larger recycling facilities where they are needed and don't exist — the emerging markets.
Reducing carbon and methane emissions, by reducing the demand for primary production and clearing landfill.
Growing recycling to 'full global capacity', by aggressively expanding our production capacity and product range.